Arizona Model Train Show Calendar
Adobe Mountain March 21st Show CANCELLED Due To Wuhan Flu Fears.
We just got this message about the show being cancelled:
Good afternoon, I am saddened to share that the March 21, 2020 swap meet has been cancelled. We at Sahuaro Central and Arizona Model Railroading Society care about your health as well as that of our visitors and members. We have been closely monitoring the well known COVID-19 precautions and worries. Additionally, the abnormally abundant rainfall with more predicted for next week, makes the grounds a mud mess that everyone would just sink into. These factors, that are beyond our control, made this a regretful yet needed decision. While the application reflected a "no refund" policy, at this time, we are extending a credit for the October 31, 2020 swap meet equal to what you paid for this one. For example, if you paid $40 for two tables, you can get two tables at the Oct. meet. Please fill out and return, via email or USPS mail, the attached table request and you will be all set for our October meet. (NOTE: Flyer is below under Oct. 2020 show informtion.) Thank you for understanding and we look forward to seeing you on Halloween for the next swap meet. Sincerely,
Michelle Bastian
Swap Meet Table Coordinator

Adobe Mountain Desert RailRoad Swap Meet
October 2020 Show Information
This show is put on by Sahuaro Central and is held twice a year in the Spring and Fall. The next show is Saturday, October 31st 9AM - 2PM.

One of the best train shows in Arizona. This show is mostly HO and N gauge, but there's always a small selection of tinplate and G gauge. It's at the railroad park, and there are operating live steam trains and many operating layouts to see.

The show is held outside under a shade canopy, so bring a hat.

NOTE: While the flyer says this show runs from 9 to 2PM, many of the sellers start packing up at 1PM so you won't see as many trains for sale if you show up after 1 PM.

Where: Adobe Mountain Desert Railroad Park
22822 N. 43rd Ave Phoenix, AZ

Flyer and online form to order tables.

Tell Your Friends On Facebook About This Show

Flyer and online form to order tables. Map

Here's some pictures of the trading area and the large G gauge layout beside it. The park also has 7" gauge live steam engines you can ride.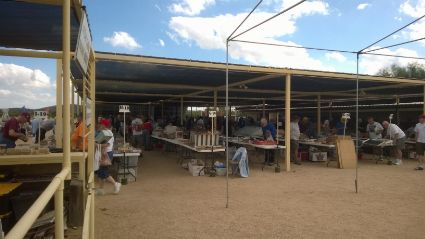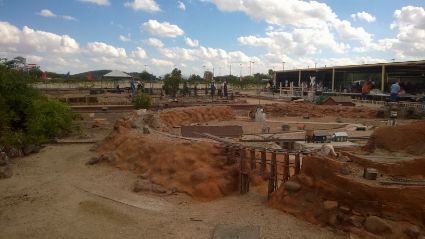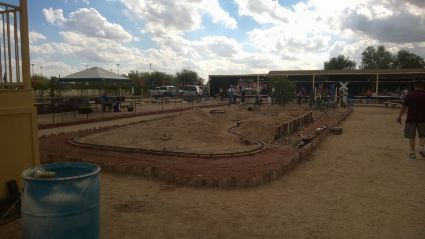 Photos provided by Fred Mazur.